Quick notes
[
]
HTC is a brand consisting of jews who take an eon to update phone firmware. This is shown by how long they took to update the HTC EVO 4G LTE's firmware to Jelly Bean
HTC is slowly dying, so don't count on getting new updates anymore.
HTC EVO 4G LTE
[
]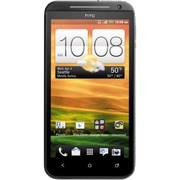 Specs

| | |
| --- | --- |
| Carrier | Sprint |
| Network Capability | LTE/CDMA/EVDO |
| Screen type | Super LCD 2.0 |
| Weight | 4.73 oz |
| OS | Android 4.1.2 "Jelly Bean" |
| Battery | 2000 mAh |
| Battery Life | 7.50 hours - Talk Time |
| Memory | 16GB Internal Storage & 64GB max MicroSD Card storage |
| Processor | 1.5GHz Snapdragon Krait |
| GPU | Adreno 225 |
A very good phone if you are on Sprint. Honestly, the white one looks better since it's not going to be a massive fingerprint magnet like the black edition is. It has a removable cover which will most likley make your iDrone friends to freak out when they can see the internals of your phone, and support for MicroSD cards. Sadly, the battery (which is very good I might add) is not removable like a GSIII is, and the USB port is on the side, which pretty much kills having a desktop dock. But with that said, it still isn't bad software wise. Sense 4.0 stock is wonderful looking, and I've never felt any lag on the SPINNAN CUBEZ. If you're looking to put a custom ROM on this phone, by all means stay away from Stock rooted ROMs since the entire XDA community went apeshit over some "Swipe2Wake" gimmick that someone made. Also, kickstand.
Anonomono (talk) 02:27, December 26, 2012 (UTC)
HTC EVO V
[
]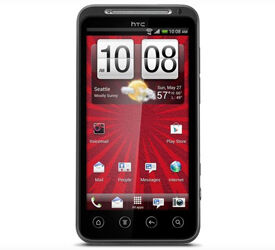 Specs
| Carrier | Virgin Mobile |
| --- | --- |
| Network Capability | EV-DO/CDMA2K |
| Screen type | Super LCD |
| Weight | 6 oz |
| OS | Android 4.0.4 (Ice Cream Sandwich) |
| Battery | 1750 mAh removable |
| Battery Life | ~6-8 hours w/ heavy 3G traffic |
| Memory | 768 mb |
| Processor | Dual-Core ARMv7 1.2 GHz |
| GPU | Adreno 220 |
An over-all well-rounded phone for those that are lacking funds, the EVO V 4g is a rebranded version of the contractually obligated HTC Evo 3D. The hardware is exactly the same. Rooting; depending on the level you want to take it to, is rather easy. Unfortunately; the first thing required for all HTC phones is to unlock the bootloader . Once this is done; the user can do anything from simply rooting the stock ROM to flashing a complete custom ROM. "Senseless" ROMs are recommended; as full-Sense based ROMs include a lot of bloat (as the full Sense software suite is intact), and stock (AOSP) ROMs often require a lower version of firmware to run (leading to decreased battery life, cellular performance, etc) and do not run at their optimum. Senseless ROMs only include the drivers that make the special hardware functions (4G and 3D in this case) and allow the running of the latest version of firmware.